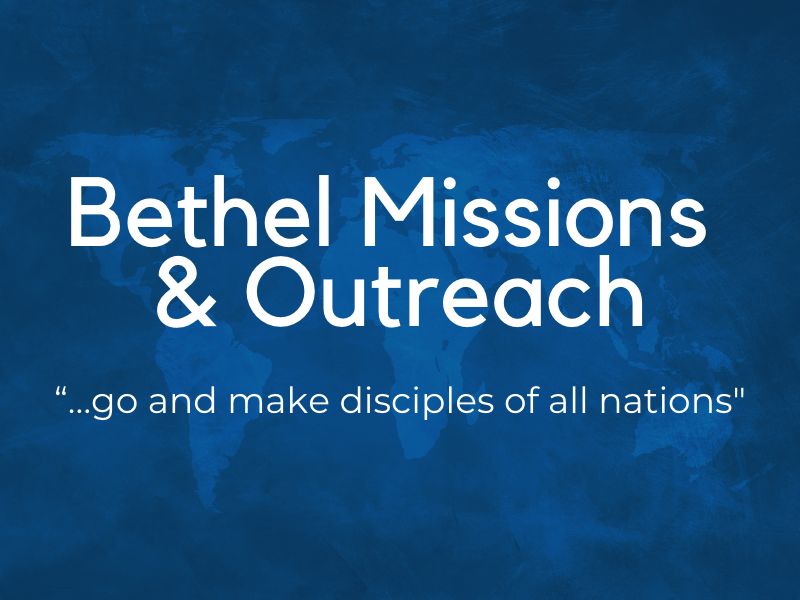 Bethel Missions & Outreach Ministry
The Bethel Missions & Outreach Ministry focuses on helping Bethel be "salt and light" to our neighbors, our country, and around the world. We do this in response to Christ's Great Commission to "…go and make disciples of all nations, baptizing…teaching… and lo, I am with you always to the close of the age." (Matt. 28:19)
So how do we do this? We are committed to praying, financially supporting ministries all over the world, and we serve locally, nationally, and internationally.
Prayer
We bring requests before the Lord and thank Him for His many blessings on a regular basis. We do this is in many ways:
Weekly mission prayers in the bulletin
Publication of Acts Facts with descriptions of all our missionaries and their work
Newsletter items with prayer requests from missionaries
Open prayer time during each worship service
Financial Support
Bethel has rich history of believing in the importance of the Great Commission, and supporting missionaries around the world. This is evident in our Missions Budget, which is an additional separate budget outside of our General & Operating budget. All contributions to the Mission Budget, our Lenten Offering, and our Thank Offering go directly to local, national, and individual individuals and agencies.
Public health
Affordable housing
Church renewal
Faculty ministry
Ministry to students at all levels
Evangelism
Medical missions
Bible translation
Agricultural missions
Literacy
Christ promises to be with us as we go into mission service locally, nationally, and globally. We desire to send individual and teams around the world to allow them to live out the Great Commission and to love, live, serve, and share Jesus wherever they go.
In the past, Bethel members have served with:
Health clinics in Honduras and El Salvador
Clean-up teams in Puerto Rico and in New Orleans after Hurricane Katrina
Volunteer groups with the Salvation Army, International Friendships, and Lower Lights Christian Ministries & Health Center
Habitat Mid Ohio Northside Partnership builds in Linden area
Interested in serving with Bethel? Click
here
for information on our International Trips and email
office@bethelpres.org
for more information on local trips.
We invite you to join in the mission work at Bethel.