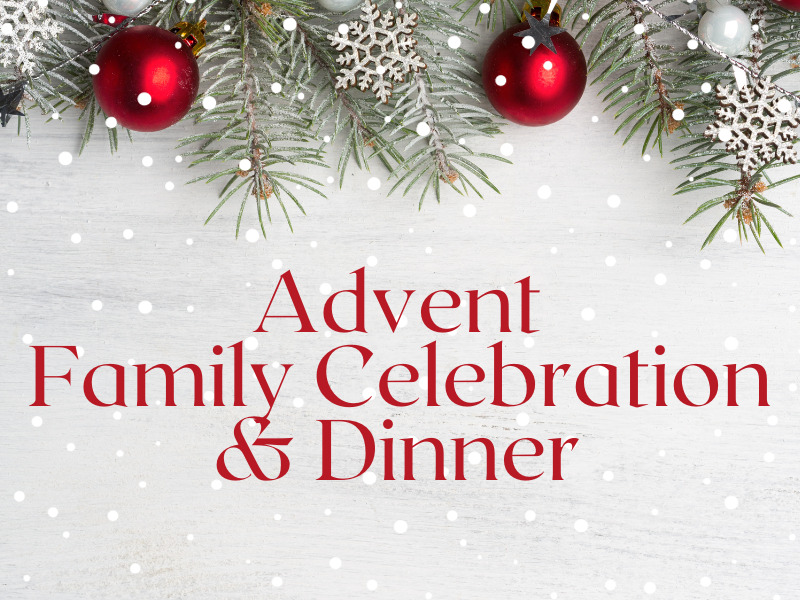 Advent Dinner & Family Celebration
5:30 pm (4:30 pm for Family Celebration)
Join us for our annual Advent Kickoff Celebration as we begin the Advent season and begin to prepare our hearts for Christmas and the birth of Jesus.
We'll kick off the evening with a Kids at Bethel Pres Family Celebration (families with childrens ages 2 yrs – 5th grade) at 4:30 pm, followed by an All Church Dinner at 5:30 pm, and we'll end the evening with a worship service.
This event is free and open to the community. We can't wait to see you there!
Schedule:
Kids at Bethel Pres Family Celebration – 4:30 – 5:30 pm
This celebration is designed for young families with children ages 2 – 12 yrs old. Each family will set up and decorate their own Advent wreath (including kid-safe candles; you'll get to take this home to use all season). We'll walk through how to use this year's Family Advent Devotional, then play a fun & very silly Christmas game. We'll join the rest of our church family for dinner at 5:30 pm in the Fellowship Hall.
All Church Dinner & Worship Service – 5:30 – 8:00 pm
The whole church will gather to eat and worship together. Dinner will be provided, with festive games, and a chance to connect with all the generations in the church. Immediately following the dinner, we'll worship together in the Sanctuary for a short worship service of songs and an Advent devotional.