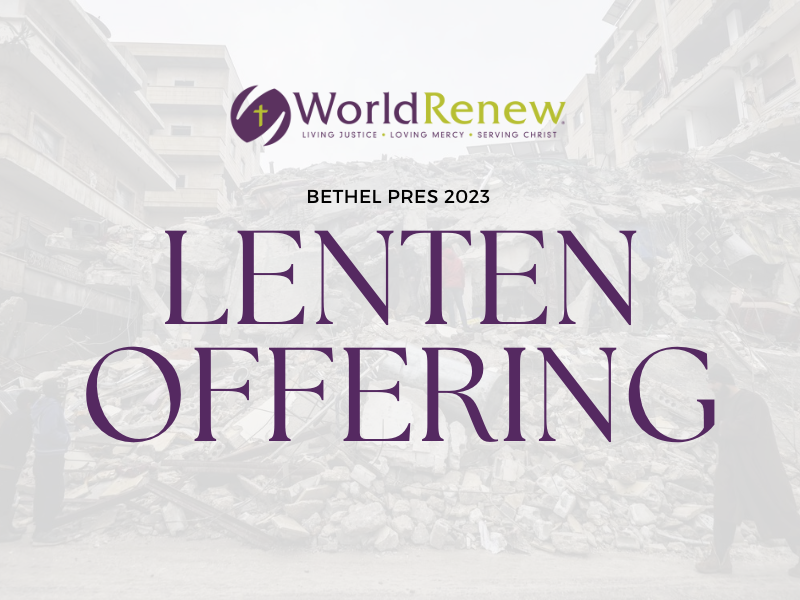 Lenten Offering
Collecting Donations Through April
You are invited to contribute to our annual Lenten Offering. Bethel chooses every year to take up a special offering during the Lenten season to support mission projects and people around the world. It is our desire to express our thankfulness for the blessings we have received from God with a recognition that these blessings are designed to be shared with others.
World Renew
Bethel's Lenten Offering this year will go to World Renew
for rescue and recovery efforts in Turkey and Syria.
On Feb. 6th a 7.8 earthquake caused devastating damage and loss of life in southeastern Turkey and northern Syria. Current estimates are $84.1 billion in damages and over 35,000 deaths. World Renew, the disaster relief agency ECO churches are encouraged to work with, partners with churches and other response groups in the area to provide immediate relief with food, water, tarps, ways to keep warm, etc.
World Renew is concentrating efforts in Syria now where they have worked for many years. There are catastrophic humanitarian needs as the area has been in conflict since 2011. About half the population of 4.6 million were experiencing food insecurity even before the earthquake. The earthquake has destroyed supply lines, cholera cases are increasing, and the number of internally displaced persons has grown. Bethel's Lenten Offering will go to local partners in Syria who are already on the ground.
If you would like to contribute, please click below.
Note: Choose the "Lenten Offering" Fund.
You can also mail a check or cash to the church or place your donation in the envelopes in the pew marked Missions. All checks should made out to Bethel Presbyterian Church, Memo: Lenten Offering. Please label any cash to ensure it will go to the Lenten Offering.
Thank you for donating!