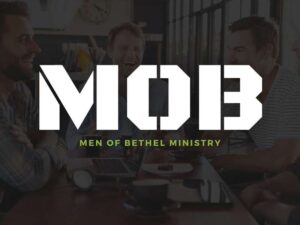 The Men of Bethel, or MOB for short, get together as often as possible to dive deep into the Bible and discover what it means to truly be a man of God. Through a continued variety of small groups, service projects, and social events we focus on discipleship and encouragement in striving to make each other better husbands, fathers, brothers, or sons and better followers of Jesus Christ. Come join us and embrace the MOB mentality.
Men's Prayer Breakfast
Wednesdays – 7:30 am
Meets at Bethel & on Zoom
A weekly time of Bible study and prayer. Please contact the office for Zoom information.
First Tuesday of every month – 6:30 pm
Meets at Red Door Tavern (1736 W 5th Ave)
A monthly time of fellowship and a dinner with a different speaker each time.
Gathering of Men
Third Tuesday of every month –
7:00 pm
Meets at Bethel
A gathering of men of all ages where we dig deeper into the word of God and grow in our faith as well as in our relationships with each other. We are currently studying the Parables of Jesus, led by Joe Williams.
Upcoming Dates:
Tuesday, March 21
Tuesday, April 18