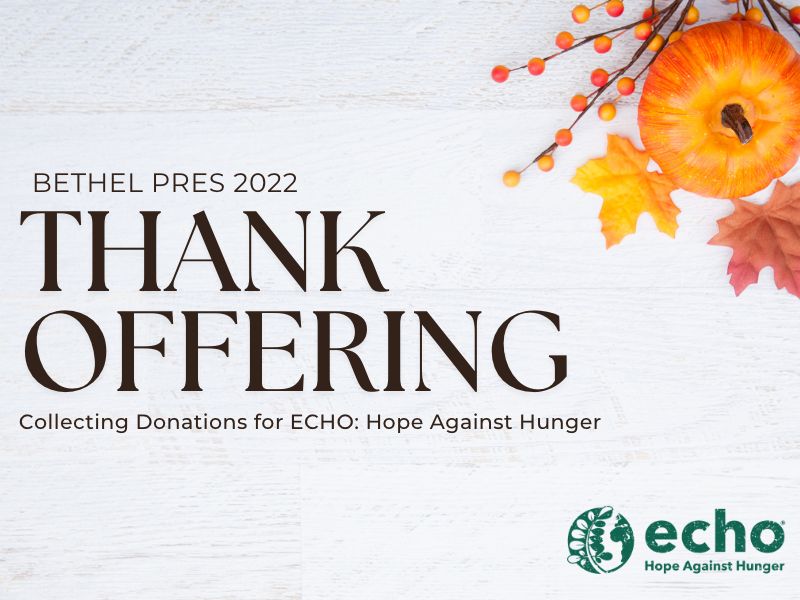 November Thank Offering
Collecting Donations Through December
You are invited to contribute to our annual Thank Offering. Bethel chooses every year to take up a special Thank offering to support mission projects and people around the world. It is our desire to express our thankfulness for the blessings we have received from God with a recognition that these blessings are designed to be shared with others.
ECHO: Hope Against Hunger
Bethel's Thank Offering this year will go to ECHO: Hope Against Hunger. For more than four decades, ECHO has been equipping and empowering hungry families with knowledge and the life-giving grace of God.
They have impacted millions of lives by teaching small-scale, sustainable farming methods so families can provide for themselves and their communities. By tackling hunger at the source, we're growing hope from the ground up.
ECHO is based in Fort Meyers, FL which was recently impacted by Hurricane Ian. Thank Offering funds collected by Bethel Presbyterian during the months of November and December will be given to ECHO where it can be used in local efforts dealing with the recovery from Ian.
If you would like to contribute, please click below.
Note: Choose the "Mission Fund" and type "Thank Offering" in the notes section.
You can also mail a check or cash to the church or place your donation in the envelopes in the pew marked Missions. All checks should made out to Bethel Presbyterian Church, Memo: Thank Offering. Please label any cash to ensure it will got to the Thank Offering.
Thank you for donating!